Imagine seeing a bowl of green looking sauce at a potluck. Your first thought might be "guacamole", but further investigation with a chip would convince you otherwise. "What IS this?" you would exclaim in sheer delight as your taste buds explode like exhilarating fireworks in your mouth. Before long, as everyone tries (and devours) this mysterious, delicious green sauce, it would be gone, with only the teasing remnants of it's flavor resting on your tongue. The sadness at the disappearance of this green sauce would be immense...
.........unless you had the recipe.... Which I DO! Just for you! below...
This is a party favorite. Take it with some chips, tossed on pasta or with raw veggies for dipping, etc, as a delicious contribution to a party or potluck.
You will need garlic, parsley (or cilantro or basil, your choice), 1 block of firm tofu, olive oil, apple cider vinegar and soy sauce (I like bragg's).
Put 1 block tofu in the blender with 1/2 cup olive oil, 1/4 cup soy sauce and 1/4 to 1/2 cup apple cider vinegar. Blend until creamy.
Add 1 to 2 entire bunches of parsley, basil, or cilantro or a mix and a few cloves of garlic. Blend until creamy and green.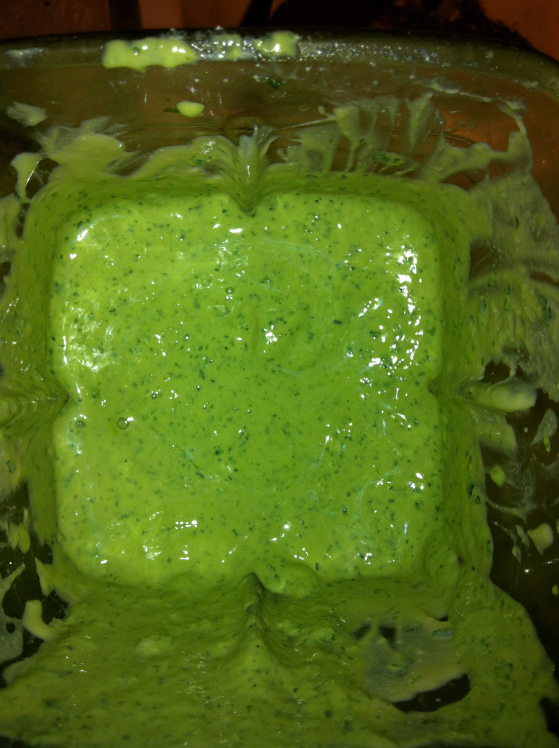 Take a taste. What do you think? I love it tossed on bean thread noodles with some stir fried veggies or as a chip dip. YUM! You'll be the hit of the party too. :]